Posts tagged "bin laden conspiracy"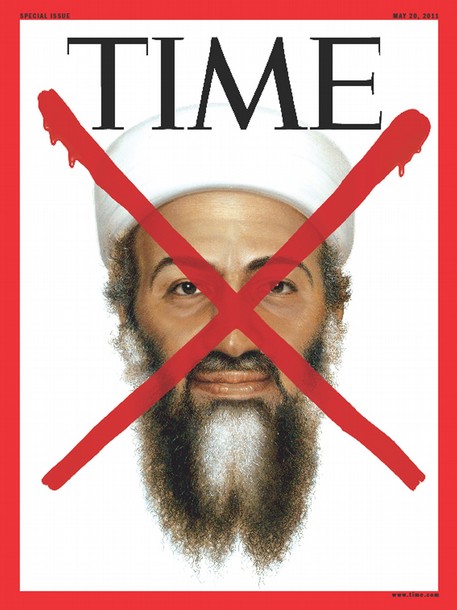 After 9/11 (which was an inside job), the whole United States was looking for one man; Osama Bin Laden.
They TOLD us via the amazing media channels that a group of AK-47 carrying desert dwellers that lived in caves snuck into the United States, hi-jacked planes and for a number of hours, flew around until finally they crashed into the Twin Towers; and for some odd reason, a building named Building 7, fell down a few blocks away; even though it didn't get hit with a missile; I mean plane.
I'm not going to go into detail on just what happened on 9/11 because I know it was a lie and all the video proof you, I and and anyone with sense needs is right here.
Now the front man for this whole "attack" became Bin Laden. We immediately began looking for him but the most advanced military force in the world (at the time) could not find ONE man.
Why is that? Could it be that he was dead the whole time and they just wanted to keep us thinking they had a reason to invade a country that did nothing to us?
According to a Fox News (yea; they're a top news outlet… LOL), in a report on their site, Bin Laden died (for the first time) in 2001. Here's what it said:
Usama bin Laden has died a peaceful death due to an untreated lung complication, the Pakistan Observer reported, citing a Taliban leader who allegedly attended the funeral of the Al Qaeda leader.

"The Coalition troops are engaged in a mad search operation but they would never be able to fulfill their cherished goal of getting Usama alive or dead," the source said.

Bin Laden, according to the source, was suffering from a serious lung complication and succumbed to the disease in mid-December, in the vicinity of the Tora Bora mountains. The source claimed that bin Laden was laid to rest honorably in his last abode and his grave was made as per his Wahabi belief.

About 30 close associates of bin Laden in Al Qaeda, including his most trusted and personal bodyguards, his family members and some "Taliban friends," attended the funeral rites. A volley of bullets was also fired to pay final tribute to the "great leader."

The Taliban source who claims to have seen bin Laden's face before burial said "he looked pale … but calm, relaxed and confident."

Asked whether bin Laden had any feelings of remorse before death, the source vehemently said "no." Instead, he said, bin Laden was proud that he succeeded in his mission of igniting awareness amongst Muslims about hegemonistic designs and conspiracies of "pagans" against Islam. Bin Laden, he said, held the view that the sacrifice of a few hundred people in Afghanistan was nothing, as those who laid their lives in creating an atmosphere of resistance will be adequately rewarded by Almighty Allah.

When asked where bin Laden was buried, the source said, "I am sure that like other places in Tora Bora, that particular place too must have vanished."
You can read that report for yourself at http://www.foxnews.com/story/0,2933,41576,00.html
(mind you he was being treated in a MILITARY hospital and they couldn't find him?? lol)
Now for the Second Death report which came in 2007. According to a Benazir Bhutto, in an interview, Osama Bin Laden was murdered. Truthfully, she didin't say when but she said he was murdered.
When Benazir Bhutto returned to Pakistan to take a stand for democratic government, 3 million Pakistanis greeted her at the airport.
She was murdered on the 27th of December in 2007.
Now for the 3rd Death report which came in 2011. This has to be the biggest hoax since… Well 9/11 I guess.
Here's the official report from Nytimes.com
In a late-night appearance in the East Room of the White House, Mr. Obama declared that "justice has been done" as he disclosed that American military and C.I.A. operatives had finally cornered Bin Laden, the leader of Al Qaeda, who had eluded them for nearly a decade. American officials said Bin Laden resisted and was shot in the head. He was later buried at sea.
You can read more at http://www.nytimes.com/2011/05/02/world/asia/osama-bin-laden-is-killed.html
So my question is why did they decide to burry him at sea? Why not put it out in the news for the world to see like they did with Saddam Hussein?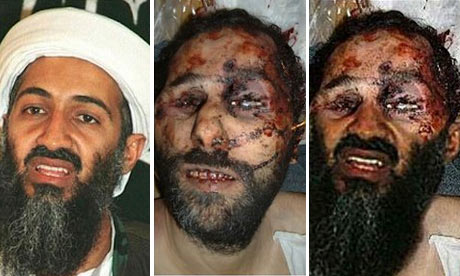 That FAKE picture that was going around was thought to be proof but later said to just be proof that the government knows how to use photoshop.
So if Bin Laden died way back in 2001, then where did the Bin Laden we saw in all those videos on th news come from?
Well looks like they hired some actors over the years to play the part.
I don't know but I truthfully don't believe Osama Bin Laden died in 2011. I believe he's been gone for a while but that's just my opinion.. Not really that important; just thought I'd mention.
What do you think?